It's A Wrap: No More Unnecessary Wrapping

At Bhumi we aim to practice being environmentally conscious from seed to shelf of the journey of all of our products. We also love listening to you, our customers, and your ideas on what we do. Due to an overwhelming response from customer feedback we have made more positive earth friendly refinements to our unboxing and packaging experience to flow with our views and passion on minimalism.
As we are committed to reducing the packaging landfill crisis by not using plastic at all and using recyclable and reusable techniques that will help reduce pollution to the environment, we have gone one step further by taking out the unbleached brown recycled kraft wrapping paper and natural jute string. Even though these were earth friendly products they still mostly ended up in the recycling bins - a step we can avoid.
We will send our Bhumi products to you as is and in recycled cardboard boxes and we encourage customers to either reuse the boxes or cut down and place in the recycling bin.
We want you to feel comforted when you see the Bhumi recycled cardboard brown box arrive at your doorstep.
We really are trying to put in practice environmentally conscious ways and that minimalist simple packaging is a key part of our commitment to the environment. Anything superfluous we are now taking out so the products arrive straight to you.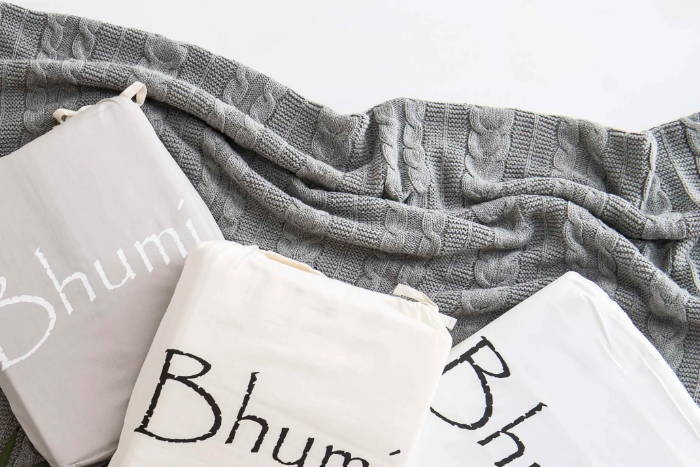 According to statistics, in Australia we throw away over 1.9 million tonnes of packaging every year – visually that is enough to fill the Melbourne Cricket Ground nine times over. Most of the products we buy comes in some form of packaging and more often than not people immediately throw away the packaging in the bin not realising that this piles up to tonnes tons of toxic waste that will take hundreds of years to break down and is extremely harmful to the environment. We do not want to be a part of this statistic.
Creating a positive unboxing experience means everything to us ...
We want you to experience Bhumi for what it means and stands for; loving and protecting the Earth and Her People and we will always adapt, change and evolve processes as well as listen to feedback on what we do to challenge the status quo by providing products that always benefit the Earth not harm Her or Her people.
About the Author: Vinita is the Founder of Bhumi Organic Cotton and passionate about an Earth Life Balance