Revealing My 5 Secrets To Sleep Better This Winter - Vinita (Founder)
Like many people I know, I do not like sleeping with the heater on. From a dehydrating angle to an environmental electricity consumption point of view, I see it as a superfluous thing to have on when you can be nice and snug in bed naturally. Allow me to take you on a journey through the warmth of my winter sanctuary.
Before I jump into bed, my ritual is a warm, not hot, shower and I cover myself in organic coconut oil. The body temperature plays an important part in regulating circadian rhythm, which tells the body when to feel sleepy or stay alert. I dry off with the striped towel, I find the velour side an incredible source of warmth as you stand in the cold air drying off. I follow this with an organic cotton t-shirt to regulate my temperature and breathe with me in my cocoon. My bedroom sanctuary is lit by candlelight and there are no phones or electronic equipment to interfere with my sleep ritual.
One of my secrets to sleeping better in the cold and new favourite things in my life is the FLAT sheet - - I never thought I would say this! The flat sheet is part of all of our sheet sets (all of our sheet sets come with the beloved fitted sheet, the flat sheet and 2 pillowcases). Many moons ago I thought the flat sheet was wonderful as a tablecloth, a picnic rug for the impromptu picnic in the backyard, a makeshift reading tent for my little Shy, and my favourite use of it has been upcycling it to one of my favourite dresses I now own - yes a dress from the simple flat bed sheet! But these last 2 winters in Melbourne has seen a new use for the flat sheet in my life.
As the name suggests and as the name is intended, a flat sheet in the bed! Given that organic cotton already breathes and does not allow for sweat build up from anything synthetic or toxic, the flat sheet acts as a magnificent insulating layer. I actually do not like tucked in sheets, but in the cold winter nights and mornings, I welcome the tucked in edges as it is the base of my cocoon.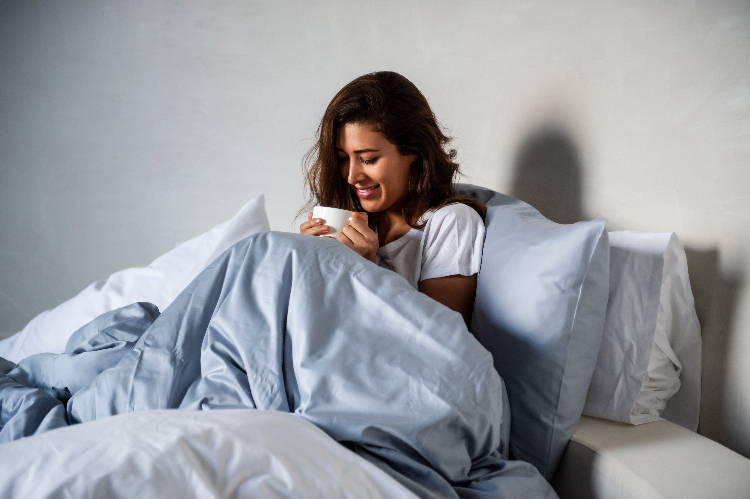 The type of fabric you like to sleep in is a personal choice. You need to know your body temperature and sleep type - are you a warm sleeper? a cold sleeper? To date, I am still so in awe of the remarkable cotton plant and how a different weave can make the same plant have different warmths and textures - it is truly incredible!! A weave can do all that so no need for any artificial synthetic textile blends or finding warmth from any animal hair or feathers- they are better off staying on the beautiful animals and keeping them warm! Our organic sateen although not as warm as our other fabrics are wonderful all year round and help regulate the temperature so as not to overheat you if you are an already warm sleeper.
The jersey sheets and quilt cover, which are my personal favourites, are the perfect warmth and comfort to keep me snug and warm and cosied up. What I love is the sensation - it feels like you are swallowed up in the arms of a big comfy t-shirt embrace. The joy I get and happy dance I do when it has dried on the line ready to come back on the bed is a sight to see!
And then the next level is flannel...Wow! With the nights now going down to 2 degrees celsius, let's not start now a new but much needed conversation on the climate crisis and the shift we are seeing globally in temperature changes watch this space, flannel is the one to have right now especially if you are always cold in bed and have 3 doona covers on to keep you remotely warm.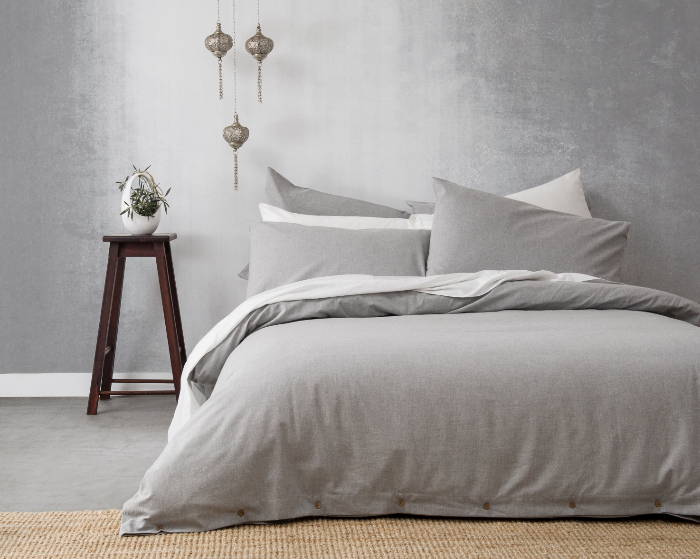 My other little secret I will share, I have the Bhumi throw over the top of the flat sheet and under the quilt cover. Yes winter time sleep is like hibernation for me. I am a butterfly in a cocoon for 3 months... okay it is Melbourne so more like 5 months! Other than its other use of my meditation shawl, I am known to walk around the house, venture into the car with it and even wear it around the office like a shawl. The throw is now an extension of me.
Then to top it off, the final piece of my winter cocoon, the quilted blanket ...words escape me.. it induces me into a deep slumber and to do the feeling any justice, it is something you just have to experience.. trust me! And what more, the linen blanket bliss is all plant derived no animals involved.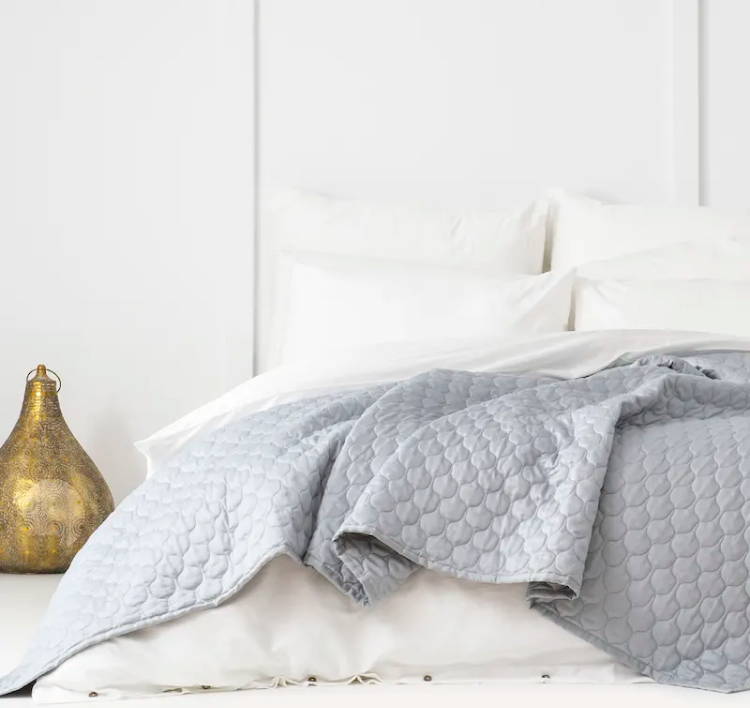 And, finally if you are lucky enough, a fireplace in the bedroom is the sweet finale to create the perfect winter den. This is something I dream about. One day it will be a reality... when I go off grid ...
Wishing you all sweet warm dreams this Winter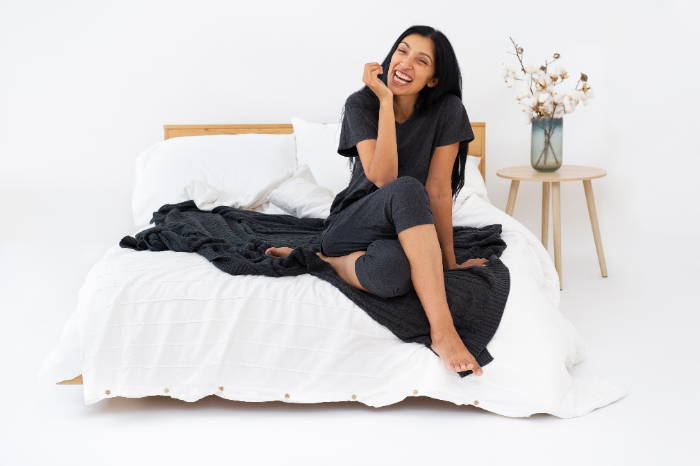 About the Author: Vinita is the Founder of Bhumi Organic Cotton and passionate about an Earth Life Balance